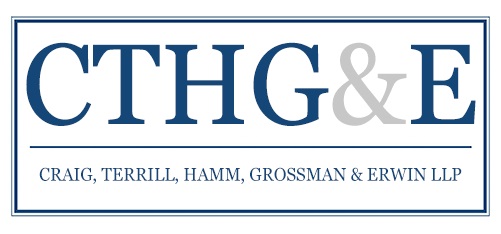 Alternative Dispute Resolution – Mediation and Arbitration Services
Craig, Terrill, Hamm, Grossman & Erwin, LLP wants to help their clients avoid lawsuits and unpredictable and high-cost outcomes by providing mediation and arbitration services as a form of alternative dispute resolution (ADR). Mediation and arbitration services allow the involved parties to create and set their ground rules that help settle their dispute.
Mediation vs. Arbitration
In mediation, a neutral third party meets jointly with parties to a pending or contemplated dispute in order to reach an agreed-upon conclusion. The mediator assists the disputants in identifying real issues in controversy and facilitates the creation of a resolution to the conflict. Mediation is generally a voluntary process that has the benefits of being confidential, cooperative, cost-effective, and less time-consuming than litigation. Mediated outcomes allow parties to direct the resolution of their dispute and are, therefore, more likely to be satisfactory to both parties.
Our attorney-mediators are recognized by their peers for the strength and effectiveness of their mediation skills. Their comprehensive knowledge of litigation, claims and the courts allows them to provide meaningful insight and assessment to both parties throughout the mediation process.
Arbitration is a process under which parties to a dispute agree to present their dispute to a neutral third party. The process is more formal than mediation that the third party neutral presides over a formal hearing at which evidence is presented, arguments are made, and a legally binding decision is rendered. Arbitration is generally a voluntary process, and it is generally less expensive and time-consuming than litigation. Other attorneys look to Craig, Terrill, Hamm, Grossman & Grantham, L.L.P. to provide arbitration services that work. We use our understanding of the law to reach decisions that reflect the legitimacy of the claim and local standard of causation, compensation, and credibility.
The thing about mediation and arbitration services is that these are both private forms of dispute resolution. It provides a confidentiality feature to one or both of the involved parties, which may be extremely important. So, if you need the help of our litigators, don't hesitate to reach out to us at Craig, Terrill, Hamm, Grossman & Erwin, LLP today to learn more about our mediation and arbitration services and other legal practice areas.
Attorneys in the Practice