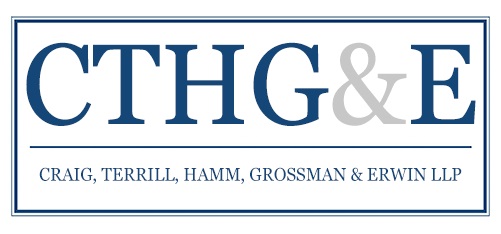 Business Transactions Attorney in Lubbock, TX
Are you looking for an excellent business lawyer in Lubbock, TX? Our team at Craig, Terrill, Hamm, Grossman & Erwin, LLP is here to help you with cases concerning transactional law.
Our AV-rated attorneys have substantial years of combined experience assisting clients with numerous types of business transactions involving various areas of the law. We provide legal advice to clients forming a business, establishing a management or succession plan for a business, selling an establishment, developing commercial property, leasing or acquiring mineral interests, or managing a farm operation. Our expertise in these areas allows us to effectively advise our clients in various facets of complex business transactions.
Areas of Expertise in Business Transactions
Agriculture
Our business transactions attorneys have broad experience in the area of Agricultural Law. We represent clients with legal issues relating to:
Agribusiness
Agrochemicals
Crops
Equine
Farms & Ranches
Livestock
Attorneys in the Practice
Banking & Finance
Craig, Terrill, Hamm, Grossman & Erwin, LLP assists depositors, lenders, and borrowers in accordance with intricate state and federal banking statutes and regulations. Our attorneys have experience in lending and secured transactions, loan workouts, mortgages and foreclosures, and creditor's rights and bankruptcy. Our clients include borrowers, commercial banks, credit unions, and holding companies.
Attorneys in the Practice
Business & Tax Planning
Tax-efficient planning for transactions and operations is integral to any sound business decision. With our firm's in-depth experience in helping clients plan for the long run, we provide you with good counsel on the legal and tax aspects of acquisitions and dispositions, mergers, financial structures and products, and business operations. We analyze alternatives and develop cutting-edge planning solutions for you to achieve business objectives while minimizing tax liabilities. Our expertise, experience, and judgment can enable you to craft creative, responsive, and cost-effective legal solutions to business and tax planning issues, including federal, state, and local taxation of corporations, partnerships, individuals, trusts, and estates.
Our attorneys advise clients on various business matters, including acquisitions and general business planning. We also represent institutions in audits and tax controversies before federal and state agencies. Additionally, we handle administrative appeals, competent authority relief, collection issues, and litigation.
Consumer Law Transactions
Select one of the firm's attorneys experienced in advising creditors on consumer financing transactions. Get expert legal advice on retail installment contracts, financial leases, and other consumer-related transactions.
Attorneys in the Practice
Corporate Transactions
Our attorneys have substantial years of combined experience assisting clients with commercial litigation and transactions. Expect competent legal advice on all facets of business or commercial legal needs from our law practitioners. We handle a broad range of basic and complex business and commercial legal matters including:
BUSINESS START UP
Financing
Entity Formation, Governance and Shareholder Agreements
Licensing and Intellectual Property Protection
Regulatory Compliance
Contract Drafting and Negotiation (including leases and land use agreements)
ON GOING BUSINESS MANAGEMENT
EMPLOYMENT ISSUES
Employment and Consulting Agreements
Executive Employment and Compensation Issues
Establishment of Employment and Labor Law Policies
Defense of Claims
Shareholder Rights
Secured Transactions
UCC
BUSINESS EXPANSION OR TRANSFER
Stock and Asset Purchases and Sales
Mergers and Acquisitions
Strategic Alliances and Joint Ventures
Reorganizations
Divestures
Attorneys in the Practice
Real Estate
Our attorneys represent both individual and corporate clients in all proceedings and transactions dealing with real property, including the land and the structures attached. We cover matters involving commercial real estate acquisitions, sales, 1031 like-kind exchanges, leases, financing, construction, property developments, mortgages and foreclosures, zoning, title examinations, quiet title actions, closings, and management. Handling real estate matters involving oil and gas is one of our specialization.
Consult Your Business Concerns With Craig, Terrill, Hamm, Grossman & Grantham
Getting professional legal advice on your law-related business affairs facilitates a smoother and worry-free transaction. Contact us at Craig, Terrill, Hamm, Grossman & Grantham for the best business lawyers in Lubbock, TX.