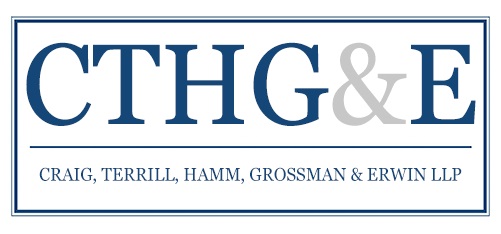 Law Practice Areas – Services We Offer
Craig, Terrill, Hamm, Grossman & Erwin, LLP is known for providing superior quality legal services. Our team is composed of the finest law graduates who work under certain law practice areas and will do their best to provide our clients with the legal assistance they need.
Carrying out the firm's excellent reputation and tradition, Craig, Terrill, Hamm, Grossman & Erwin, LLP, offers high-quality legal services to the largest city in the South Plains and midway between Dallas and Albuquerque. We want to provide our clients with the highest caliber of legal representation.
Litigation, Trials & Appeals
Our attorneys have established a national reputation based on the strength and depth of their litigation talent. We emphasize defense representations and understand the businesses and the concerns of the clients we defend.
Our litigation practice focus includes the following:
Appellate Advocacy
Aviation Litigation
Banking and Finance
Business & Commercial Litigation
Construction Litigation
Consumer Law Litigation
Creditor's Rights & Bankruptcy
Employment Law
Insurance Coverage Opinions & Bad Faith
Insurance Defense
Medical Malpractice Defense
Oilfield Accidents/Industrial Claims
Product Liability Defense
Professional Liability Defense
Real Estate and Oil & Gas Litigation
Will Contests & Fiduciary Litigation
Business Transactions
Our attorneys have substantial years of combined experience assisting clients with numerous types of business transactions involving various areas of the law.
Our focus includes the following:
Agriculture
Banking & Finance
Business & Tax Planning
Consumer Law Transactions
Corporate Transactions
Real Estate
Wind Energy
Estate Planning & Probate
We offer estate planning designed for executives and other individuals or families with high net worth, family-owned businesses or other assets in need of protection. Our team will work hard to ensure that your assets will be preserved and well-distributed among your beneficiaries.
Mediation & Arbitration
Our mediation and arbitration legal services can provide the opposing parties with confidentiality while resolving disputes. Our lawyers are highly skilled mediators and arbitrators who will work hard to reach an agreed-upon conclusion.
As a trusted law office, our goal is to provide our clients with the legal services they need and exceed their expectations while maintaining our commitment to our profession's ethical standards. Contact us at Craig, Terrill, Hamm, Grossman & Erwin, LLP today to learn more about our law practice areas.