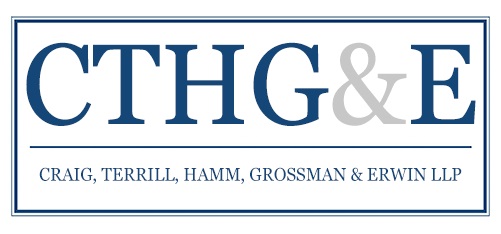 Litigation Attorney in Texas – Trials and Appeals
Here at Craig, Terrill, Hamm, Grossman & Erwin, LLP, our civil litigation attorneys have established an esteemed national reputation owing to the strength and depth of their talent. We emphasize defense representations. Our lawyers also know and understand very well the businesses and business concerns of the clients we defend.
Our team includes Bob Craig and Grady Terrill, who are AV-rated attorneys and senior partners with extensive litigation experience. Also included are Bud Grossman and Gary Bellair, both board-certified—Grossman in Personal Injury Trial Law and Bellair in Civil Appellate Law—by the Texas Board of Legal Specialization. Marcy Erwin is also a talented member of our team.
With our extensive experience in legal practice, we represent a diverse clientele in trials and appeals, ranging from individuals to established companies throughout the state and across the country. Craig, Terrill, Hamm, Grossman & Erwin, LLP provides practical advice, strong advocacy, and cost-effective results. Our litigation practice focus includes:
Get Competent Legal Support From Our Firm
At Craig, Terrill, Hamm, Grossman & Erwin, LLP, our accomplished and experienced lawyers will firmly defend and support you in your trials and appeals. Contact us now if you are looking for a civil litigation attorney in Lubbock, TX.